Keep Dallas Observer
Free
2023 End of Year Membership Drive Goal
We are counting on the support of our readers to help us reach our end-of-year membership drive goal to ensure the continuation of our important work. Join us in our mission to keep our local journalism free and accessible for years to come!
$7,000
Choose a membership support level that works for you
One-Time Gift*
Monthly Letter from the Editor
Presale ticket access to signature events
Members-only newsletters
Event newsletters
*Benefits are active for 6 months
Recurring
Membership
One-Time Gift benefits
+
Access to exclusive ticket and gift card giveaways
Access to members-only editorial events
Ad-free experience
Discounts at local community partners
Member Event: December 7
Our members are invited to join Dallas Observer Food Editor Lauren Drewes Daniels, Editor-in-Chief Patrick Williams, and other members of the editorial team on December 7 for a discussion on banned books and our Top 100 Restaurants release. Read More >>>
Space is limited, so if you are not yet a member, join today for an invite.
Monthly contributions are billed each month and annual contributions are billed once a year.
Refunds will be accepted within 14 days of the sign up date, wou can update your account by accessing the account profile page.
By proceeding, you are agreeing to our Terms and Conditions.
Get the latest news, arts & culture, food & drink, music, free stuff, and more delivered to your inbox.
From Our Editor
Since 1980, the Observer has kept watch on Dallas, offering fresh perspectives on the news and covering stories and people overlooked by other media. We have been and always intend to be a free but invaluable resource for readers who want the whole story, told without fear or favor. But it costs money to publish a free newspaper, and in today's tough business climate for newspapers, we could use your assistance to continue our mission of bringing light to Big D's hidden corners. Please help support the Dallas Observer by making a one-time or continuing donation to support alternative journalism.
Patrick Williams
Editor In Chief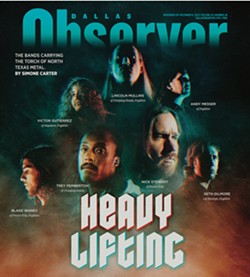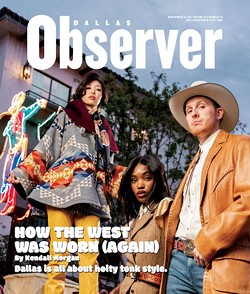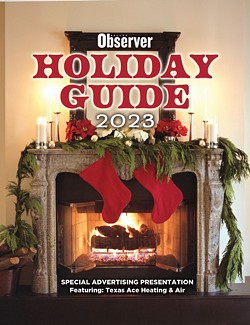 Who We Are
Dallas Observer is an independent local newspaper and website whose small but scrappy staff of journalists have covered Dallas news since 1980. We also believe in celebrating Dallas culture, covering our city's music, arts and dining scenes with the same attention to detail that we devote to our news stories.
Read our full story and learn more about our staff.
What You Can Do To Help
Since the day we were founded, Dallas Observer has been free to our readers. With both advertiser and reader support, our print papers remain free and we've never put up an online paywall. We remain dedicated to providing our reported local journalism to everyone at no charge, regardless of their financial status.
We remain committed to keeping our journalism free and avoiding paywalls or mandatory subscriptions. But the long-term challenges organizations like ours face in generating advertising dollars aren't going away. We want to keep covering Dallas the way it deserves to be covered. That means remaining independent and avoiding paywalls – but still bringing in enough money to fund our journalism.
We are calling on our community members to support Dallas Observer by contributing any amount to support our newsroom. Join our community of members, and we'll put whatever money you contribute toward producing high-quality local journalism. We know you work hard for your money, and you can rest assured we'll work hard for you, covering Dallas as only we can.
Contribution FAQs
How do I check or update my membership status?
Click on the 'Account' drop-down button in the top right corner and then select "My Account" to view your active account information.
Can I contribute without making an account?
Absolutely! You can either mail a check to 2030 Main Street, Ste 410, Dallas, TX, 75201, with "Contribution" as the memo, or give us a call at 303-293-6415.
When does my recurring membership expire?
All recurring payments are set to auto-renew so that you don't have to worry about when your expiration date is coming up.
How do I cancel my membership or contribution?
Please email us here.
Do you offer print subscriptions?*
*Print subscriptions are not included with any gift or recurring membership.
We do not offer print subscriptions, but the Dallas Observer has free print stands at nearly 1,270 locations!
How do I show my membership to community businesses for a discount?
Click on the "Account" drop-down button in the top right corner and then select "My Account" to view your active account information.
How do I update the email associated with my account?
You can email us here to update any account information.
Is my contribution tax-deductible?
Dallas Observer is not a 501(c)(3), therefore contributions are not tax-deductible. However, all gifts will be used to support Dallas Observer operations and are vital to support our local reporting. Please see our Terms & Conditions for more information.
Other Questions? Comments? Feedback? Compliments?
Please contact us for more information.
Thank You To Our Community Partners